Mervyn Floyd, President
Merv was born in 1943 in a small farming / tourist town in Exmoor, SW England. In the immediate post war era with food rationing, it was very much a case of grow your own vegetables, and get meat from the farm or shoot it yourself.
He worked school holidays in a butcher shop and learned the correct way to cut meat.
Merv later joined Rolls-Royce Aero Engines as an engineering apprentice, attended college in parallel and graduated in Electronics. In 1971 he moved to Switzerland and spent 16 years living in a farming community near Gruyeres. Merv traveled extensively and had the opportunity of enjoying many of the worlds top restaurants as well as local cuisine and home cooking in many countries.
In 1986, as an executive responsible for aerospace corporate business in USA he moved first to New England, married Kathy who shares the same food values, and then in 2003 to Whidbey Island. Merv retired in 2012 and operated as an International consultant until 2015. He is a founding member, ex-board member and officer of South Whidbey Yacht Club.
Merv is a firm believer in the concept of Slow Food and educating people about the benefits of growing, cooking, preserving and eating good fresh food. He has professional experience for 40+ years, creating a climate of cooperation and consensus between corporate management teams and its major customers.
Penny Harger, Secretary
Penny grew up long, long ago among the "truck farms" in the Garden State (New Jersey) when "seasonal" and "local" were the main determiners of what went on the table and "Home Economics" was a required course for all girls in junior high. Her mother was a gourmet cook and set very high standards for taste, variety and nutrition. Slow Food fits perfectly with these traditions.
With a B.A., an Ed.M. and an MBA, she worked in management for non-profits, for-profits, and educational and academic organizations in Massachusetts, St. Louis, Hawaii, and Seattle, as well as founding a relocation business to help companies attract executives to the Seattle area back when it was still considered a hardship assignment by East Coast professionals.
Volunteering has always been part of Penny's life. She even met husband, Bob Boehm, that way. Together they have enjoyed exploring cuisines all over the world. Since moving to Whidbey in 2006, Penny has been on the boards of Meerkerk Gardens, South Whidbey Yacht Club, and the Whidbey Island Garden Tour, as well as continuing to volunteer for Sound Water Stewards, the Freeland Library Book Sale and Enso House.
Bob Boehm, Member at Large
NW Regional Slow Fish Committee
Bob brings a broad range of executive management, leadership and financial management skills developed during his 40 year career that started in public accounting where he earned his CPA. After two years in the military he returned to public accounting then on to management experiences in the insurance industry, followed by executive management, leadership and financial management positions in the training and consulting industries, initially with the Forum Corporation where he was VP-Finance, managing all accounting operations, and subsequently an executive role in the startup consulting division in the US and then in Europe. More recently he was Executive Director with the Deltapoint Corporation, a world recognized implementer of lean manufacturing management systems and Joan Wellman & Associates, Inc., a leader in the implementation of Lean Management systems in the Healthcare Industry.
Bob also brings twenty five years of profit and non-profit board experience in the consulting (profit) and visual arts, performing arts, music education, and primary school areas (non-profit). He has served as president, vice president and treasurer on most of these Boards.Member
Kathy Floyd, Membership and Communication
Kathy's grandfather had a dairy farm in the Berkshire Mountains of Massachusetts and she spent many happy hours as a child milking cows, picking wild blueberries and catching trout from the small stream on their property. She learned her skill at apple pie baking at her grandmother's knee.
She moved to Whidbey Island in 2003 and has been a member of Slow Food Whidbey Island since 2013. She has been retired since she moved here and spends her spare time gardening and baking. She worked in the contributions department at Boeing in Renton prior to moving to the island and brings her experience in organizational and data skills to the board. She also served as membership chair on the South Whidbey Yacht Club for a year.
Her profile picture is with Ashes, a rescue pygmy goat who happily lives on Rosehip Farm and is eating her way through several acres of blackberries, a win-win for all concerned
Bob Finke, Treasurer
Bob learned about food from an early age when his nickname as a baby was "butterball". From there, he grew to be 6'4" tall and close to 300 pounds. Part of that was partaking in the Cajun/Creole cuisine of New Orleans.
Bob also excelled at detail work, with a Master's degree in Computer Science and a 16-year career in software engineering at ROLM / IBM / Siemens in the 1980s and 90s. He followed that with a second career by starting, with his wife Lynn, a financial planning and investment practice and becoming a Certified Financial Planner™.
Life greatly improved after he and Lynn moved to Whidbey Island from central coastal California in September 2015 - - where he quickly joined Slow Food Whidbey Island the next January. Along the way, Bob volunteered on some boards - - as Secretary for West Bay Opera in Palo Alto, CA and as Treasurer for the Santa Cruz Chorale in Santa Cruz, CA.
Lynn Wenzel, Member at Large
NW Regional Snail of Approval Committee
Lynn is a retired executive who has found pure joy and creative expression in preparing, eating and learning about food.
Lynn loves to travel and an important part of every international and interstate adventure is to explore the cuisine and culture of food everywhere she goes. Here, in her profile photograph, Lynn is exploring Turkish spices in Stall #51 at the Grand Bazaar in Istanbul, Turkey.
Lynn joined Slow Food Whidbey Island in January 2016 and served as co-chair on the Cooking Class and Events Committee.
With a strong love for good, clean and fair food, community engagement and support, and educational events, Lynn is excited to spread the mission of Slow Food to Whidbey Island and beyond.
Mary Ann Stine, Co-Chair of Events Committee
Mary Ann is a native Whidbey Islander, and a lover of everything Whidbey Island and Slow Food. As a retired educator from Everett Public Schools, she has a huge appreciation and passion for linking everything local to farm fresh food along with educational activities that bring the whole world of agriculture to life and help instill lifestyle choices that nurture bodies, communities, and the planet.
As a retired educator, it is her mission to provide opportunities to all to learn about Slow Food, local farmers and all of the sustainable resources Whidbey Island and Slow Food has to offer.
Co-Chair of Events Committee
George attended Seattle Culinary Academy and worked at the fabulous Herbfarm in Woodinvilled followed by a job with Link Lab Artisan Meats in Seattle where he learned the sausage business.
George is the Co-Chair for our Events Committee and helps lead at least one cooking class a year.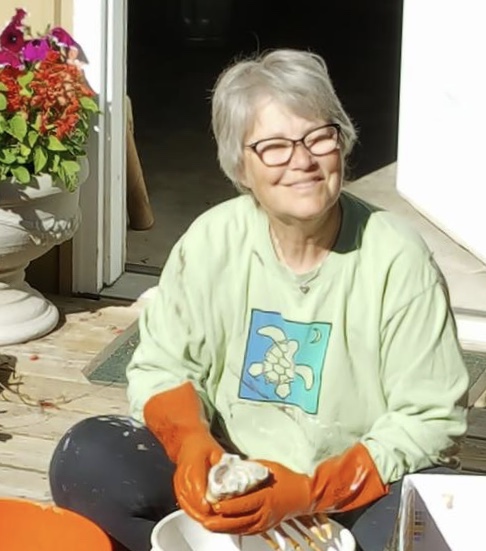 PNW Regional Slow Fish Committee
For 34 years, Leslie worked in the private sector, primarily in accounting and purchasing. Her last position before moving to Whidbey Island in 2002 was Strategic Alliance Manager. She was responsible for negotiating, implementing and managing multi-million dollar corporate contracts with key alliance suppliers for a multitude of products.
Shortly after moving to Whidbey, Leslie became a volunteer member with EHAT (Environmental Health Advisory Board) for Island County and eventually became a member of CHAB (County Health Advisory Board). It was doing her work with these two groups that she really began to notice how important it is to understand the connection between how the food we eat is produced, and the health of the environment in which it is produced, are related.
We are so lucky to live in an area that takes that approach seriously. Slow Food is an organization that promotes this kind of awareness and because of that, and my love of all things food, it seemed a perfect fit for me.

Member at Large
I am a native of Seattle. My earliest culinary experience was when I was 4 in Nana Eleanor's Seattle kitchen. She put me on a little step stool at her sink with an egg beater and a bowl of soapy water. She made delicious pork chops with gravy, mashed potatoes with cream, raspberry bar cookies and pies. She always used butter. I do the same, but I use olive oil, too. My mother learned to cook wonderful food from Eleanor.
I worked for Pan American Airways 1966-1974 and visited 3 dozen countries which Pan Am served. I ate everything thing I was offered and later cooked a lot of it at home.
In the early 1990s I worked at the Freeland Bakery. Sydney ran the bakery and cafe while her husband, Mike, delivered the baked goods. I learned from Sydney how to make delicious soup and salad dressing and rugalech cookies. I've also organized a few cooking classes—half a dozen students made the dinner with me and their significant others came to eat it with us. Occasionally I cook for Enso House.
I still use the Time-Life 1960s series of books, Foods of the World. Gourmet Magazine and I have been good friends from the January, 1970 issue (which I still have) until the final issue in 2009. I've enjoyed rereading them.
From the early days of Carlo Petrini's Slow Food movement, I subscribed to the beautiful, quarterly, bound editions of Slow Food. I visited the small office in Bra, Italy, and brought home an SF apron. A few months later I joined a half dozen others to establish Slow Food Whidbey Island.
Today I have a raised 5'x5' garden box with tomatoes, garlic, and fava beans in my front yard. Elsewhere throughout the yard I have more tomatoes, potatoes, scallions, garlic, cucumbers, raspberries, strawberries and herbs. There are fruit trees: fig, apple and quince.